I experience traveling overseas only 6 times, but these were so concentrated ones after I began to dance.
Except a trip to Europe when I was a student, I traveled always to the South, after I began to dance, where I enjoyed to meet the people of lovely brown skin, and that rejuvenate me with my life force. Nowadays I especially love to visit south islands.
- South, Island, Sea,,, these are the keyword of my travel and of my life.
[ 1992 - France(Nice, Menton, Dijion, Lyon, Paris), England(London) ]
Suprisingly I never traveled in 10 years after this trip. And in the travel after 2003, I always took lessons of dance! Dance is always my trigger to the trip.
[ 2003 - Hawai'i (the island of O'ahu, and of Hawai'i) ]
It was my first trip to Hawai'i. The purpose of the trip is to join my Hula teacher's graduation ceremony of Hula(Uniki). We Hula students moved to a university ground in Kailua area, just after arriving at Honolulu without taking a glance of Waikiki beach... We stayed there 3 nights preparing the Hula show after my teacher's Uniki ceremony. We made Lei with leaf and a instrument from branches of trees, did a practice and rehearsal of dance. Literally we spent the time for concentrate in and dedicate to the ceremony of Hula. After our first stage in Hawai'i finished, we were finally relaxed, then the time to see Waikiki beach! But, this time we just took a glance from a taxi going to the party place in the night, and the early time of the next day we started to the island of Hawai'i for the trip visiting many sacred places of Hula (Huaka'i. We went around from the east end of the island, then to the north, and to the south-west area in the island, of course visited Kilauea volcano. After finished our second purpose Huaka'i, at last, we had only 1 day and a half free time. I choose Dolphin Swim withoug question, that I prepared to join before the trip, in Japan. I left for Makaha beach area where tourists hardly visit. We couldn't meet dolphines near in the sea all the morning of this day, then we were brought in the sacred forest where we can see a big Manoa falls The air is so clean, we enjoyed the silence and the atmosphere of sacred place.
[ 2005 - Egypt(Cairo, Giza, Luxor, Alexandria, Siwa) ]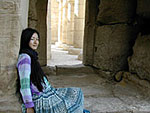 Luxor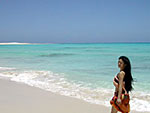 Alexandria
When I met
Tamallyn Dallal
, American bellydancer, at her workshop in Tokyo, she suggested us the tour to SIWA oasis with bellydancers group. I was so attracted the image of SIWA and decided to join the tour and to go Egypt. Actually it was after I first watched my bellydance teacher
Mishaal's DVD
that she was dancing in front of a pyramid in Giza from that I had the idea to go to Egypt and visit pyramid. Her dancing in front of the pyramid was very much impressive for me, that image brought me there in a moment, I felt.
At this time of year from the end of June to the begining of July, a yearly bellydance festival is given in the hotel at Giza 'Mena House Oberoi'. I took some lessons that interested me. I took a workshop of only one Egyptian style bellydance, and other ethnic dances attracted me such as Khaleezy(dance of gulf region) and Indian Bollywood dance(taught by
Meera
).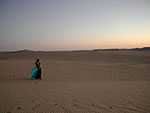 Siwa Oasis
I fortunately stayed at my friend's studio that is near Mena House and I can see pyramids from the balcony of the room I stayed. In the studio and room, sand from the desert always comes in, and I never forget the hot dry air from the desert. There isn't air conditioner in this studio, only we used electric fan, that was lucky for me because I could bounce back from a fever only one night with breaking a sweat all night long, when I was tired after I came back from Luxor, and I could go to the SIWA oasis tour the next morning.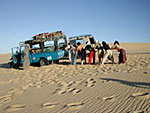 Siwa Oasis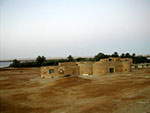 Siwa / hotel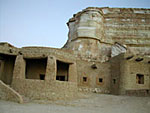 Siwa / hotel
When I remember Egypt, my body sensation comes back to me soon, that was so impressive for my body. The south edge I visited this time was Luxor where the day temparature was around 45 degrees C although under a tree. We didn't turned up the air conditioner so much, and in day time we were so active with always taking 2 bottles of mineral water, visited almost all the sights of east and west bank of Nile during 2 days. Only that I regrets was that we couldn't visit Aswan, south of Luxor, because of my schedule. It may be around 50 degrees C in that season, I heard, I wanted to challenge such a high temparature.
In Siwa oasis, everything was miraculous! I was very much grateful for Tamallyn who organized this tour, and I was so happy to travel with her around 1 week. As well as the experience of sleeping in the desert, the hotel that we stayed at was so greate. The hotel, actually a resort, is a old shrine remained as old time and has so wide ground fronting the lake. There is no electricity in every room for stay, so when we arrived there in the dark at night, I first didn't understad where this is and how is this room because I couldn't see clearly around and I got scared in the dark because I was lead to my single room alone. But just after that, dinner time party was so enjoyable and I never forget that we danced together with cheerful Bedouins and Berbers who worked in this resort and always served us.
[ 2005 - Hawai'i (the island of O'ahu, and of Kaua'i) ]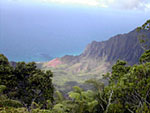 O'ahu / Na Pali Coast
It was my second vitsit to Hawai'i and again for the purpose of Hula ceremony. This time, our teacher became Kumu Hula(Hula master, guru of Hula), and we joined that ceremony. The ceremony was, around midnight, that initiated Kumu Hula was dancing, chanting and beating the drum all night. The ceremony was done at the Heiau(sacred place of Hula for worship) on the cliff top where we can see a sea around 180 degree of view. I was so impressed by this ceremony, and felt deeply that I was happy to connect to the tradition of Hula.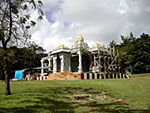 kaua'i / Hindu temple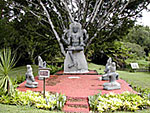 kaua'i / Hindu temple
This time, I first visited Kaua'i that I was longing for visitiong for long time, Kaua'i is the oldest island among other islands of Hawai'i, as called ''Garden Island'', there are many green plants and fresh atmosphere in the air. The splendor of atmosphere fresh and calm healed me deeply, and I felt relaxed everyday.
I was interested in the Hindu temple in Kaua'i, it was a little amazing that there were a Hindu temple in Hawai'i! I couldn't enter in the back of the shrine, but could walk in all the area of this wide garden. I became soon to love this wonderful atmosphere that the Gods and the Goddesses in Hindu and the sweet smelled plants in Hwai'i were there together harmoniously.
In my free time of only half a day, I went to the mountain area by taxi. Actually the day before, I didn't have a time to visit Hindu temple, but I wanted to visit there at any cost, so I tried to go there picking the taxi. It was happy that the taxi driver was so kind, we were open up by finding out that his mother is Kumu Hula, I'm Hula dancer, and he is tahitian drummer, so we were linked by the Hula. Then he proposed me to lead to the very famous fall with no extra charge, I was so happy. But I did mistake that he meant the fall very small fall on the way we were driving, and I was satisfied that and stopped going to the real fall that he spoke to me. I unerstood afterword that he spoke about the very big fall where the movie '' Jurassic Park '' was taken. I was so sorry about my misunderstanding,,, but I remember a very kind native hawai'ian taxi driver as a good memory.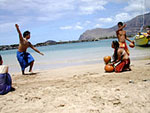 O'ahu / Rocal Hula dancer
Going back to O'ahu, we had another 1 day free time. I went again to the same place as I went on 2003 (actually near place) for dolphine swim. This time the seaside is more local area Waianae beach and we could watch dolphins so near in the sea. We were holding in hands the pole of stairs in the bottom of the boat soaking in the sea, we(our boat) were going so fast to follow the dolphines who were swiming so fast. We were a little sorry that we couldn't swim and play in the sea with dolphines, but watching the dolpnines so near in the sea was very much amazing for me. After trying dolphin swim, we enjoyed snorkeling in a very clear water point where we could see many fishes and lovery big turtles. I felt very good to float in the clear sea feeling in union with the sea, many fishes and the nature around.
[ 2007 - Philippines(Panay, Cebu, Mactan, Bohol) ]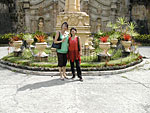 Panay / the world helitage
Miagao Church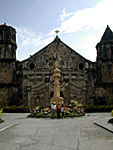 Panay / the world helitage
Miagao Church
I never imagined to visit Asia because I always wanted to go to Hawai'i. The catalyst for me to go to Philippines was, as usual, Hula. I took lessons from a Hula teacher living in Philippines who came to Japan to give lessons in spring of this year, and I was so much impressed of her dancing, never forgot to her dance, and I at last went to Philippines in order to take lessons from her again. Of course, when I watched a guidebook, very beautiful seaside in Cebu and amazing view and lovely little tarsier(small monky) also attracted me.
Panay island is a academic town without pretension like Cebu, but there is a world heritage church a little apart from the central area, and very big festival of cultural(ethnic) dance in January, we can enjoy if we'd like to experience a cultural side of this island. I was told by my friend before I went there that Philippines is a very poor country so if watching the people's life in a poor area, I would be shocked. But I never be shocked negatively, I would be rather moved by the people who were all so beautiful even working in the street, because their posture is so good, the bright eyes has a power, the body was tight shaped and the skin was sun tunned to bronze color.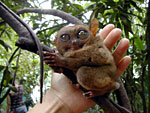 Bohol
The smallest monky 'Tarsier'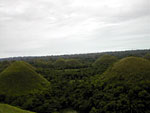 Bohol
'Chocolate Hill'
Cebu was more popular and touristry (never calm), but people were open and smily, and I became to love them(Actually I stayed at Mactan island). Cebu's sea was not as beautiful as the sea in Bohol. Bohol was more miraculous in every area in this country. I can say that I diceded to visit Philippines by watching the picture of Tarsier (the smallest monkey in the world). And of course I wanted to watch such a amazing chocolate hill. In Bohol, I hired a guide one day who was so kind and amused me so much.
[ 2008 - Sri Lanka(Kandy, Sigiria, Dambulla, Negombo) ]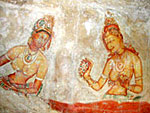 Sigiria Lady / Wall painting
My connection to Sri Lanka was truely miraculous. I may be attracted and brought to that country, actually my dream that I wish to visit in someday in the future came true in one month by chance! I deeply believe that who brought me to this land was 'Sigiria Lady' who is also connected to the dance.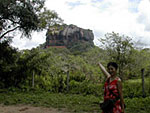 Sigiria Rock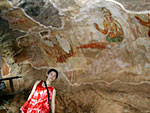 in front of 'Sigiria lady'
The first time that I saw the picture of Sigiria Lady was when I was looking for a image for the event '
Connect with the Earth
' that I organized with my friend. I was looking for a universal image of Goddess who appears wherever on the earth, and I found the Sigiria Lady. She just coincides to my image and I supposed that this mural painting is in a certain country in Asia, but didn't know that is in Sri Lanka. Just before holding the event on the second time, I got to know that is Sigiria Lady in Sri Lanka, mural paintings in a very tall Rock remains. When I saw the image of Sigiria Rock, something in myself bursted. The inspiration hit me that I would visit this place at some future date, actually I visited there in one month! What happened in this one month was that I saw the information of kandyandance show in Japan, by chance, which I had seen (the information) in the previous year, then I went to take lesson of this dance soon, and on the same day I decided to join the tour to Sri Lanka organized by the dance studio. I suppose everything was linked by fate. The group tour's main purpose was attending the Diamond Jubilee ceremony of today's Kandyandance's Guru(master). Fortunately I just got such a chance only in one month after starting lessons, and took several lessons before the tour in 2 weeks, I became full of passion for kandyandance.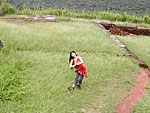 Around top of Sigiria Rock /
Dances are dedicated here
at the past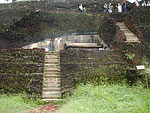 (view in front of the picture above)
King's rock chair, watching the dance
The most impressive thing at Sigiria was that I standed on the ground where the dance had been dedicated for the King in the old dynasty time. The ground was surrounded on all four sides by rocks, I felt this is similar in figure to Hawai'ian 'Heiau' which is a flat ground for dedicating the Hula(dance). I couln't help holding a pose of kandyandance that was the one I had not learned yet. I felt deeply at Sigiria the atmosphere like nostalgia.
Going back from the tour, I happened to see an interested hypothesis 'Who are Sigiria Ladies?' that is sometimes talked about, and the answers are always 'wife of the King', 'lady's maid of the King', and 'Goddesses in imagine'.I found the answer that
the ladies are 'Tara', Bodhisattva in Mahayana Buddhism
professed in this area at that time. I was so suprised and I got to love this thesis because Sigiria Lady's adorable glamorous body and exotic alluring smile on the face that I fell in love just when I watched once looks like these of Bodhisattva, I suppose, and of couse I love Tara very much. Also I was suprised because Theravada Buddhism is always popular in Sri Lanka, but Mahayana Buddhism was also come down to this island, if it's true, at the old time. And above all, Tara is most important for me as the connection to the dance, I'm very happy to meet Tara on this island where I was gifted the traditional dance of this country, after stating to dance with the linkage to the Tara and learning several dances in a southerly. So, Sigiria Lady is for me neither more nor less than the universal existence who symbolizes the femininity and the goddess who appears everywhere in the world.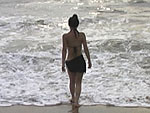 Sea at Negonbo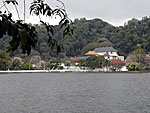 Dalada Maligawa
viewed from Kandy lake
This time I stayed mainly in central highlands Kandy, the city of world heritage. Naturally I like seaside and I wondered if I wanted to go to seaside area instead of staying at kandy, but never. From when I saw this beautiful city Kandy at the first time (actually at the first time when I watched the view of Kandy in photo), this city makes me feel nostalgia, and I feel like coming back here after traveling many places wherever in the world, as if my soul's home town. This is because I was attracted by the people's devotional mind, who go to worship at a temple everyday, and the calm atmosphere created by the people and the city.